PhD in Human Environmental Sciences, emphasis in Human Development and Family Science
The PhD program is designed with student individuality in mind. You have unique career goals and research interests, and we'll help you reach your goals through individualized learning plans and built-in opportunities for research and teaching. A PhD from Mizzou allows you to pursue careers in research, college or university teaching, or leadership positions in public and private institutions.
FIND YOUR NICHE
Many academic backgrounds are compatible with HDFS, a multidisciplinary approach to understanding development and relationships in context.
PARTNER WITH AWARD-WINNING FACULTY
Collaborate with faculty mentors who have expertise in lifespan development, family science, health, and multiculturalism.
BECOME A COLLEAGUE
Engage in curriculum that provides immediate, hands-on opportunities for research, teaching,
engagement, and service.
BUILD YOUR GLOBAL NETWORK
Connect with faculty and peers across research labs, present at national and international conferences, and tap into our alumni network.
As a PhD student, you will complete coursework, a comprehensive exam, and a dissertation. Although you will develop an individualized course plan, all coursework covers a core of theory, research methods, statistics, HDFS content, and a collateral area of your choosing. Please review the current
list of graduate courses
. The
student handbook
 provides more details about requirements of the comprehensive exam and dissertation processes.
Each student's degree program will include individualized opportunities to grow skills beyond academic work.
Research practica with multiple faculty mentors build expertise in methods and analysis
Teaching practica enhance skills in the classroom through co-teaching with a faculty member
Assistantships provide funding and critical real-world training
Student and professional organizations provide opportunities to network and serve
Seminars develop professional skills
Research centers provide opportunities for engagement
23/24 Funding Levels:
Stipend paid over 10 months for a 20 hour/week assistantship: $19,020
Tuition waiver: $12,305 (based on Tier 2 tuition, 23 credits/year)
Health insurance subsidy: ~$4000
Total annual financial package worth $35,325
Renewable for up to 5 years, for an all-in financial package worth $176,625
There is no special application process for assistantships for PhD students; the application for admission serves as your assistantship application. Summer assistantships are limited and not guaranteed.
Graduates of our PhD program work in fields including academia, government, research and evaluation, non-profits, and human services.
Professor (all levels)
Executive Director
Senior Research Associate
Research Director
Extension/Community Education Specialist
Why Mizzou HDFS?
Mizzou HDFS ranked #6 nationally in value by Great Value Colleges of all family and consumer sciences departments
Excellent national reputation and ranking among HDFS doctoral programs
Collegial and supportive culture
Over $100,000 awarded annually from department, college, and university fellowships
Financial packages worth approximately $55,000 annually (including stipend, tuition waiver, and health insurance subsidy)
Exceptional post-graduation employment rate in the graduate's chosen field
Award-winning mentorship from nationally-recognized faculty
Curated plan of study prepares you for the career you want
Built-in opportunities to conduct research, publish, and present at conferences
Face-to-face and online teaching opportunities
Free professional development workshops
Watch video to learn more about how MU HDFS is committed to helping students obtain their educational and career goals.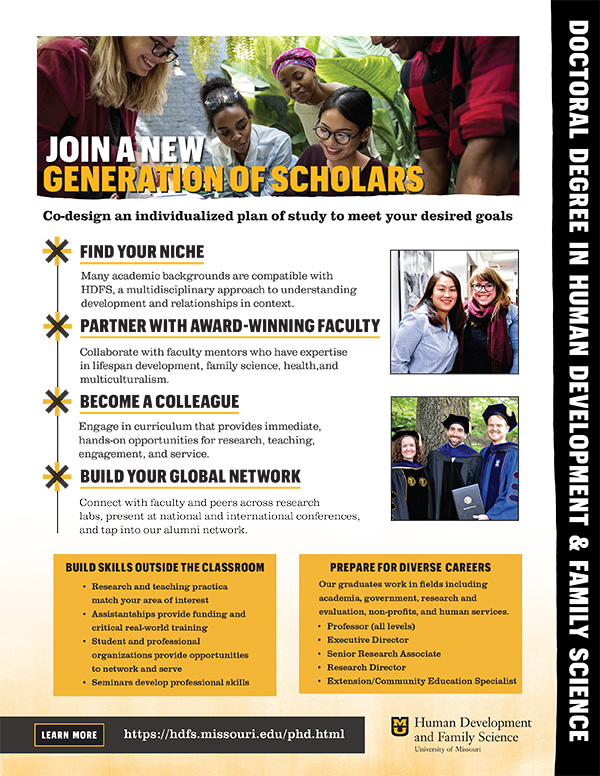 Click image to open brochure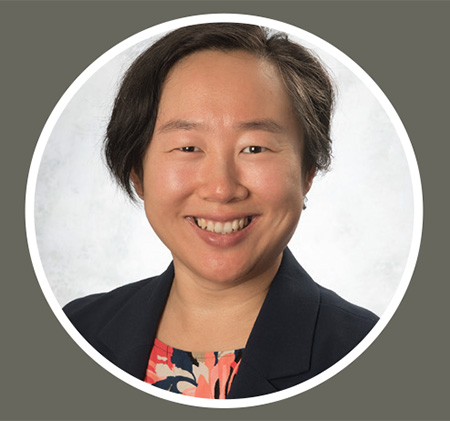 "Mizzou HDFS has offered me many opportunities to work with children, to teach independently with effective mentorship, to enhance my research skills by involving me in research projects led by faculty members and by supporting me in conducting my own research"
CHANGE SU-RUSSELL | PhD 2018
Associate Professor
Department of Family & Consumer Sciences, Illinois State University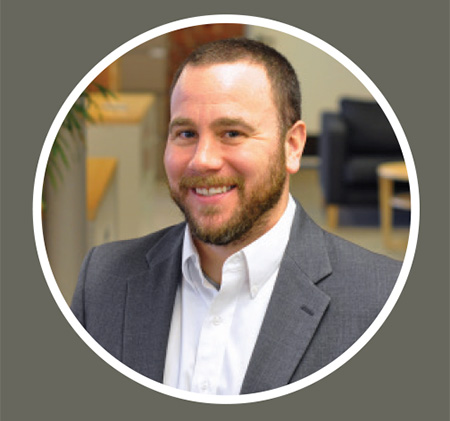 "Mizzou HDFS did an excellent job providing me experience in designing and running evaluations for several Mizzou Extension [outreach] programs. The chance to work with these programs allowed me to enter the job market with years of real world dataset experience."
RICHARD FEISTMAN | PhD 2014
Director of Education and Workforce Development at AFFOA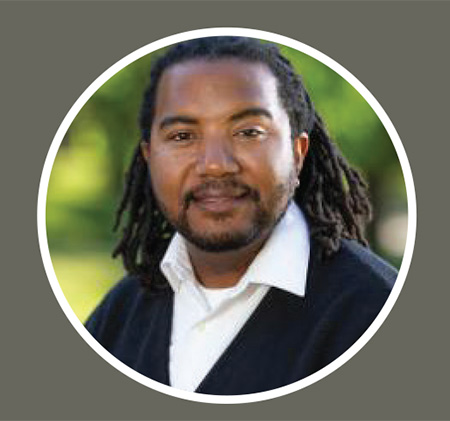 "Both the faculty and my graduate colleagues were brilliant and the learning environment was competitive in that it challenged each of us in a manner that allowed us to reach our various potentials. I am proud to call Mizzou HDFS home."
ANTHONY JAMES | PhD 2012
Professor
Department of Family Science and Social Work, Miami University