A minor in HDFS prepares students to understand and apply the science of individual development and interpersonal interactions to any other field of study.
COMPLEMENT ANOTHER DEGREE
Gain specialized knowledge about development and relationships that you can apply to work in other majors/careers.
LEARN THE SCIENCE OF GROWTH AND RELATIONSHIPS
Use research and theory to understand diverse life experiences as we age and interact within social contexts.
BUILD PERSONAL LIFE SKILLS
Apply knowledge of development and relationships to your personal life and interactions as a child, sibling, partner, parent, friend, or coworker.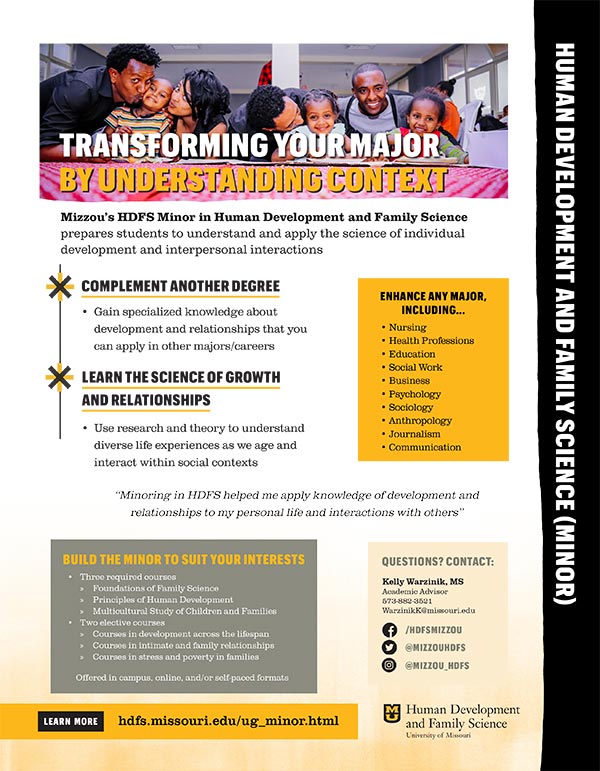 Click image to open brochure
Minoring in HDFS can enhance your major:
Nursing and Health Professions
Enhance your work with patients of all ages with strong knowledge of normative development; Learn about the role of families and relationships in patient health and treatment.
Education
Understand cognitive and social developmental milestones and the importance of peer relationships; Learn how families and their social locations influence children's growth and learning.
Social Work
Learn how environments and context influence the needs and resources of people you serve; Understand the role of relationships and development in service delivery.
Business
Understand youth and families as consumers; Enhance human resources programs that support development and relationships.
Psychology
Dive deeper into families, social, and cultural experiences as a context for individual growth; Apply a systems view to mental health and social cognition.
Sociology and Anthropology
Understand families as a key social structures within cultures; Focus on reciprocal influences of individuals and families in their social contexts.
Journalism
Identify how families consume and are influenced by media and social messages; Understand how to report on important youth and family issues.
Communication
Learn the role of communication in family and social systems; Create public relations and marketing campaigns for agencies that support children and families.
Engineering
Develop applied solutions that help individuals and families navigate the world around them; Understand how people interact with their physical environments.
Political Science
Understand how policies and government influence peoples' everyday lives; Use developmental and relationship research to inform and advocate for policies that support individuals, children, and families.
Parks & Recreation; Natural Resources
Create recreation, sports, and outdoor programs that foster positive youth development; Understand how leisure and nature programs support social and cognitive development and enhance relationships.
Apply for the HDFS Minor: Complete the online application. The application should be submitted when you begin taking HDFS courses to fulfill the minor and before all required courses are complete. Requirements in place at the time of application are the student's responsibility.
Criteria and Coursework for the HDFS Minor
Students must earn the minimum of a C (2.0) grade in each course selected for the minor. Pass/fail graded courses will not be accepted. Students must take 3 required courses and then select 2 additional courses.
Required (3 courses)
HDFS 1600: Foundations of Family Science (3 cr)
HDFS 2300: Multicultural Study of Children and Families (3 cr)
HDFS 2400/2400W: Principles of Human Development (3 cr, standard or 4 cr, WI)
Additional courses (choose any 2 courses, some have pre-requisites so plan accordingly)
Courses in development across the lifespan
HDFS 3050: Child Development: Birth to 3 (Infant/Toddler) (3 cr)
HDFS 3150W: Child Development 4-8 (Early Childhood) (WI) (3 cr)
HDFS 3430: Adolescence and Young Adulthood (3 cr)
HDFS 3440: Adulthood and Aging (3 cr)
Courses in intimate and family relationships
HDFS 1610: Intimate Relationships and Marriage (3 cr)
HDFS 4610: Stress and Resilience in Families (3 cr)
HDFS 4620: Family Interaction (3 cr)
HDFS 4630: The Process of Divorce (3 cr)
HDFS 4640: Interpersonal Relationships (3 cr)
HDFS 4700: Children and Families in Poverty (3 cr)
HDFS 4740: Parent-Child Relations Over the Life Course (3 cr)
HDFS Minor Advisor

Kelly Warzinik
Phone: (573) 882-3521
E-mail: warzinikk@missouri.edu