The Family & Lifespan Development emphasis area prepares students to understand and support individuals, families, and relationships throughout the lifespan and in a variety of contexts. Our graduates will:
PROMOTE POSITIVE RELATIONSHIP AND FAMILY DYNAMICS
Identify key relationship processes that contribute to the well-being of individuals, couples, and families as they interact in various contexts
ENCOURAGE SUCCESSFUL DEVELOPMENT ACROSS THE LIFESPAN
Apply research and theory about the influences and variations of development across infancy, childhood, adolescence, adulthood, and late life
ADVOCATE FOR INDIVIDUALS AND FAMILIES IN DIVERSE CONTEXTS
Recognize the role that cultural, structural, and socioeconomic factors, as well as variations in family structure, gender, health, and more, play in lives of individuals, relationships, and families
Build your skills in a practical, hands-on way
Combine understanding of research and theory to gain broad knowledge of development and relationships
Choose among many HDFS elective courses to suit your interests and professional goals
Build experiential learning through field training and internships in a variety of community settings of your choosing
Collaborate with faculty and contribute to hands-on research to answer important questions about youth and adult development, family relationships and interactions, intimate relationship formation and maintenance, the influence of health, and the experiences of diverse youth and families
Graduates may qualify for the Certified Family Life Educator (CFLE) credential from the National Council on Family Relations
General Education Requirements
Degree Requirements and Sample Program
Graduates from FLD are prepared to work with children, adults, families, and communities in a variety of roles and settings. Supporting the positive development of individuals and families is an essential part of everyday life.
Relationship and parenting education
Afterschool/youth development programs
Cooperative Extension
Military youth and family services
Crisis shelters and centers
Foster care and adoption
Older adult support programs
Family/social service agencies
Child/family policy analysis and advocacy
Refugee and immigrant support programs
For more career information, visit the National Council on Family Relations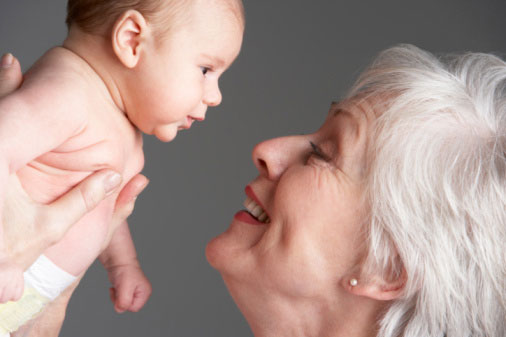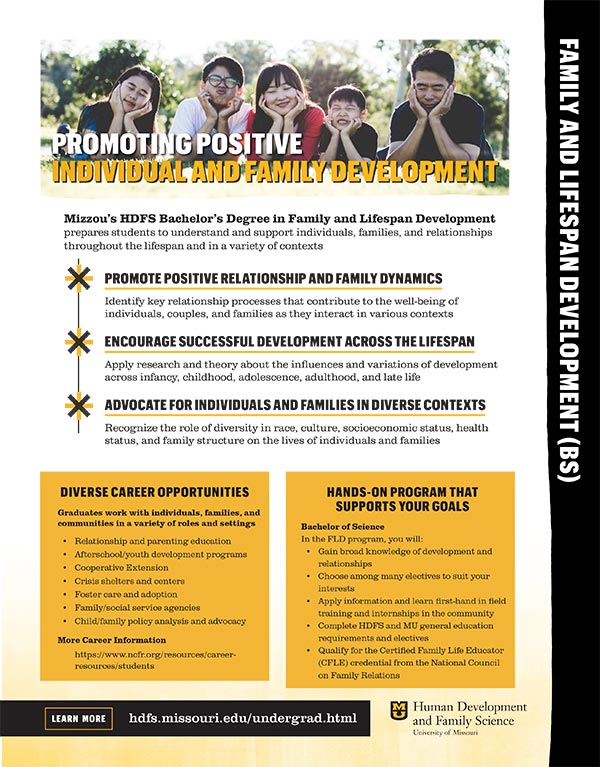 Click image to open brochure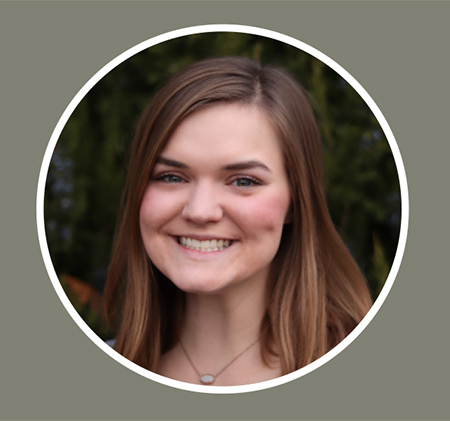 "Adoption and foster care is often stressful and unpredictable, and I frequently use what I learned as an HDFS student about how everyone is shaped by their own experiences to help families cope with the changes."
ALLIE FREESE | KANSAS CITY, MO
FAMILY & LIFESPAN DEVELOPMENT (BS) '18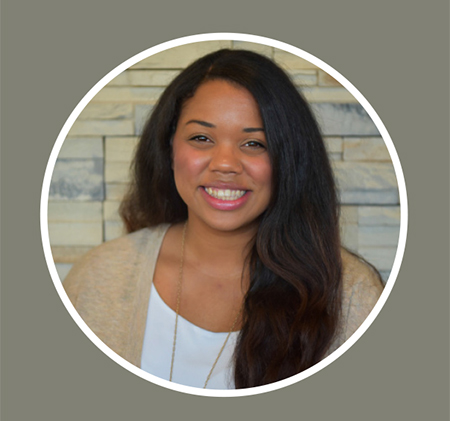 "I use what I learned when I engage with new audiences to discuss difficult topics related to inclusion, equity, and social justice… so I can connect with people across different culture, age, life stage, and their own personal development."
CHELSEA DRAKE | COLUMBIA, MO
FAMILY & LIFESPAN DEVELOPMENT (BS) '12
---
HDFS FLD Advisor

Kelly Warzinik
Phone: (573) 882-3521
E-mail: warzinikk@missouri.edu