The courses in our HDFS undergraduate programs help students develop critical thinking skills about evidence in the science of relationships and development. Our students build in-demand, practical skills for working with people in many stages of life, in many types of relationships, and across many social and cultural contexts.
Our graduates are equipped for diverse careers working with children, adults, and families. HDFS graduates can also translate these skills to other professional spheres like business settings or prepare for advanced graduate study.
Learn more about HDFS and how we support and prepare our students.
Understand early childhood development and create positive learning environments.
Help children and families cope with the stress of illness, injury, and medical treatment.
Focus on the care and learning of diverse groups of young children, families, and communities.
Understand and support individuals, families, and relationships throughout the lifespan.
Understand and apply the science of development and relationships to work in other majors and careers while also building personal life skills.
Understand the theory and research about developmental change and environmental influences from infancy through adolescence.
Why Mizzou HDFS?
Supportive culture with hands-on advising
Diversity and inclusion are foundational to our courses
Hands-on learning in the Child Development Lab and practica/internships in the community
Opportunities for research experience
Preparation for the exams for Child Life Certification or the Certified Family Life Educator credential
A strong foundation for graduate study in a wide variety of disciplines: marriage and family therapy, gerontology, social work, education, nursing, family law, business administration.
Nationally-recognized faculty who provide award-winning mentorship.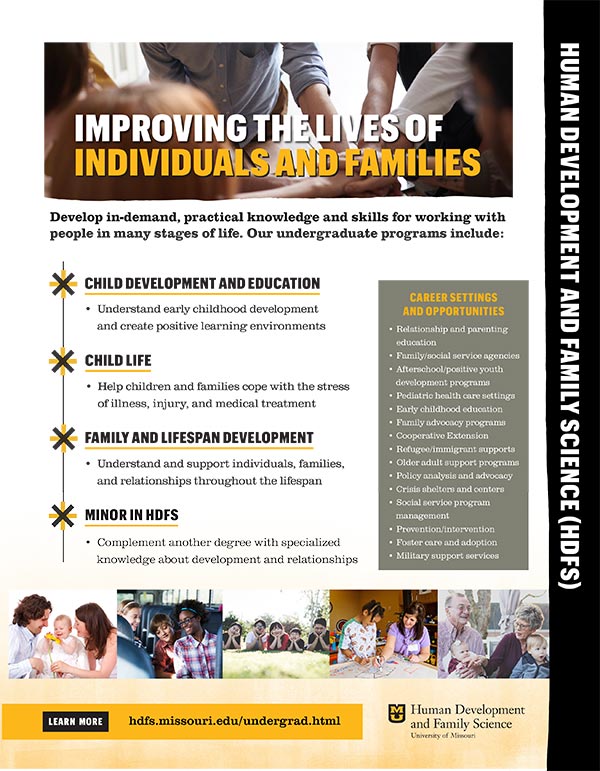 Click image to open brochure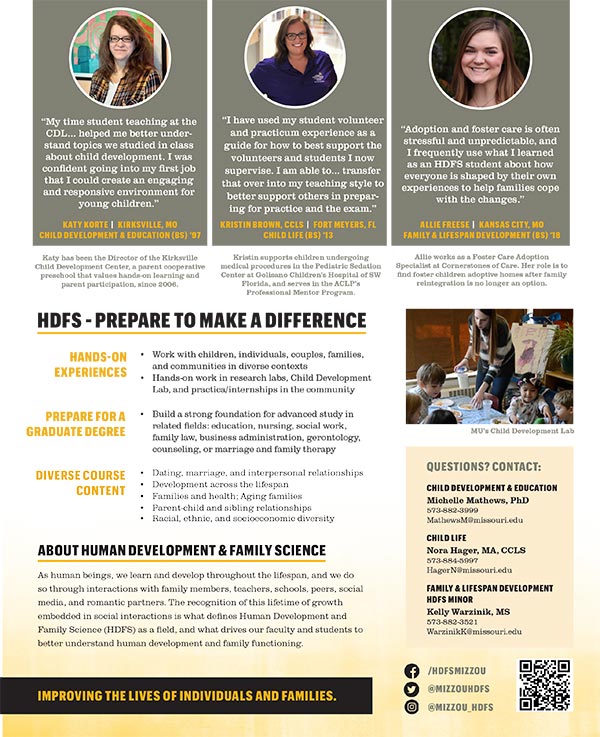 Click image to open brochure
Graduates of HDFS must meet:
And the departmental technical standards of preparation for professional service to individuals and families
Financial Support Options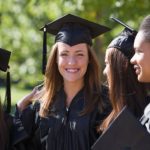 Undergraduate students who have a 3.5 cumulative MU GPA can select to pursue the requirements for the HDFS Honors Program and graduate with department honors in HDFS.
To complete the HDFS Honors Program, eligible students must:
Select and meet with a faculty honors mentor (a full-time HDFS faculty member) early after admission to the department to complete the Honors application.
Enroll in the honors section of HDFS courses when such sections are offered.
Attend 10 department or campus research colloquia that are pre-approved by the faculty honors mentor.

For each colloquium, the student must write and submit a one-page, typed reflective essay to the faculty honors mentor.

Engage in a significant year-long (at least 2 semesters) research experience with a faculty member (not necessarily the faculty honors mentor).

Register for HDFS 4085 (Problems) for 3-6 credit hours (1 credit hour = 40 hours of research work). The research supervisor assigns the S/U grade upon evaluation of the research project.

Complete a written research paper/honors thesis based on the research experience noted in #4.
Present the completed research to HDFS faculty and students in a public forum.