Mizzou HDFS graduate students Shannon Dier and Aida Ismailova received top honors for their presentations at the 39th Annual Research & Creative Activities Forum (RCAF). This event is hosted by the Graduate Professional Council (GPC) and offers graduate students the opportunity to present their work to a wide audience of professors, research colleagues, and mentors from the University of Missouri and other institutions in Missouri.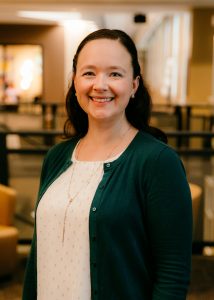 Shannon Dier was awarded 1st place in the Health Sciences/Medicine/Veterinary Medicine category. Shannon's project, Chronic Illness Disclosure in Emerging Adulthood and Implications for Adjustment, explored the experiences of MU undergraduates with chronic medical conditions as they navigated decisions about disclosing their medical needs in the college environment. Her findings suggest that both open and proactive disclosure attitudes are associated with well-being and therefore supportive interventions may need to be targeted toward students with more reactive disclosure attitudes. Shannon received a BA in Psychology and Sociology from Alma College and completed her MS in Development and Family Studies at the University of North Texas in 2010. Shannon is a Certified Child Life Specialist and has nearly 10 years of clinical experience supporting children and families through medical encounters. Shannon is currently working on her PhD with MU HDFS and is advised by Dr. Rachel Thibodeau-Nielsen. Shannon's research focuses on coping processes in health care contexts for children, adolescents, and child life professionals.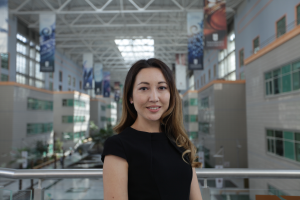 Aida Ismailova was awarded 3rd place in the Social Sciences (Quantitative) category. Her project, Parental Emotional support and Child Cognitive Stimulation in Low-Income Families, examined how emotional support was associated with the quality of children's cognitive stimulation. Aida observed higher levels of cognitive stimulation when the emotional support was received. She also determined that parents who experienced warmth and caring in the spouse and other family members' relationships demonstrated higher levels of quality of parent-child interactions than parents receiving other sources of emotional support. Aida received a BA in Foreign Languages from Kostanay State Pedagogical Institute, Kazakhstan and an MA in Education from the University of Bath, UK. She is a first-year doctoral student at MU HDFS and is advised by Dr. Louis Manfra. Aida's research interests are parent-child and teacher-child interactions and its effects on a child's cognitive development.
Shannon and Aida were told by the RCAF coordinator that their work demonstrated exceptional creativity, innovative thinking, and outstanding research skills, impressing the judges and the audience alike. HDFS at Mizzou has a rich history of being represented at the annual RCAF event. In just the last several years, for example, HDFS students have received 6 of the top honors, including Hanamori Skoblow, Matthew Ogan, and Alaina Wilson, as well as Shannon Dier receiving 1st place accolades twice in 3 short years.