Shannon Dier and Matthew Ogan, both doctoral students in HDFS at Mizzou, were honored at the 2023 MU Graduate and Postdoctoral Awards Reception!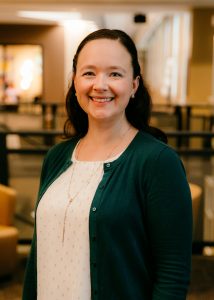 Shannon Dier earned the Mary Elizabeth Gutermuth Award for Community Engagement for her work with the "Comfort Clinic" initiative through Columbia/Boone County Public Health and Human Services. This award recognizes a graduate or professional student who has strong potential for addressing societal issues through their community-engaged work. This award consists of a summer fellowship to support their work in their community-engaged research. Shannon is advised by Dr. Rachel Thibodeau-Nielsen.
According to Shannon, "Columbia/Boone County Public Health and Human Services reached out to MU HDFS's child life program last year for assistance in planning a 'Comfort Clinic' to address vaccine hesitancy due to fear of needles." Shannon was an eager collaborator from the start, helping to provide a training session in conjunction with MU Health's child life coordinator to equip clinic nurses with strategies for distraction, relaxation, and non-pharmacological pain management. Shannon has since provided developmentally appropriate preparation and individualized psychosocial support during injections to dozens of children and families over the course of seven clinics.
Shannon also supervises MU child life practicum students during the clinics as they engage children in therapeutic play before and after vaccination; providing students a unique opportunity to see the impact of child life services in a community health setting. Shannon received a BA in Psychology and Sociology from Alma College and completed her MS in Development and Family Studies at the University of North Texas in 2010. Shannon is a Certified Child Life Specialist and has nearly 10 years of clinical experience supporting children and families through medical encounters. Currently working on her PhD in HDFS working with Dr. Rachel Thibodeau-Nielsen, Shannon's research focuses on coping processes in health care contexts for children, adolescents, and child life professionals with an emphasis on work that can be translated into practice.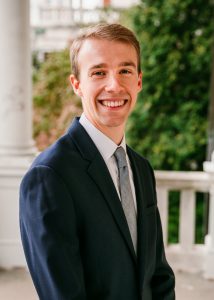 Matthew Ogan earned the Excellence in Research award, which honors a graduate or professional student who has demonstrated a sound understanding of their field of study and has made contributions to the field through their research. Matt has already amassed several publications in top scholarly outlets within his discipline of relationship science. Mattis advised by Dr. Kale Monk. A native of Tulsa, Oklahoma, Matt earned his B.S. in Family and Human Services from John Brown University before earning a Master of Science degree in HDFS from Mizzou. His research agenda examines the impacts of socioecological stress on romantic relationship functioning. He aims to apply advanced quantitative methods to understand how stress impacts relationships, and to identify interventions or social policies which might buffer these effects, with an end goal of using research to strengthen relationships of individuals in marginalized and underserved communities.