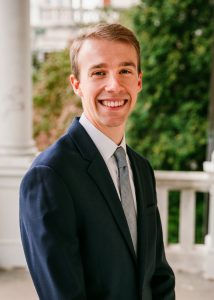 Doctoral student Matthew (Matt) Ogan recently attended the Fragile Families Summer Data Workshop in June 2022. Through a competitive application process, the Columbia Population Research Center funded travel to New York City to train early career scholars to access and analyze data from the Fragile Families and Child Wellbeing Study. This large-scale study follows urban parents and their children over time. Matt plans to use this dataset for his dissertation to evaluate the role of government benefits and assistance in romantic relationship outcomes.
Matt's professional travel continued with a training in Bologna, Italy for the International Meeting of the Psychometric Society in July 2022. With funds awarded by the MU Graduate School's Bies International Travel Award, Matt networked with expert methodologists from around the world and received training in Machine Learning. He plans to apply this training by integrating cutting-edge methods into work investigating the role of stress in romantic partner support.
Although relatively early in his career, Matt has an impressive track record of publishing research and securing funding for professional development. Matt also received the Professional Development Grant from the Marriage Strengthening & Dissemination Research Center in 2021. This grant allowed Matt to attend the National Council on Family Relations conference, the premier research conference for his field.
Through these opportunities, Matt has gained valuable experiences in data analysis and networking, which have stimulated his interest in seeking future dissertation funding. Matt's doctoral advisor, Dr. Kale Monk, has been a great encourager for exploring these networking and training opportunities. Matt said, "Through the mentorship of my advisor and receipt of these funds, I feel confident that I can contribute to the field of relationship science while using robust methods and innovative data." With these diverse experiences, Matt is well-prepared for a productive career in research and poised to make a strong impact on families.