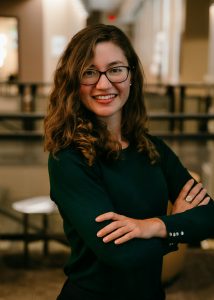 HDFS Doctoral student Hanamori (Hana) Skoblow recently completed a Summer Policy Internship with the Gerontological Society of America (GSA). During her six-week experience, Hana crafted issue briefs for one of GSA's journals, the Public Policy & Aging Report, to disseminate research and actionable policy recommendations to Congressional staff. She also researched and analyzed legislation that impacts older adults, including retirement policy reform currently working its way through Congress (i.e., SECURE 2.0, EARN Act, RISE & SHINE Act). Some of this analysis was included in the July 2022 edition of Gerontology News (GSA's membership newsletter, see pg 4-5).
Hana collaborated with other interns on an analysis of the FY23 proposed budget as it relates to older adults, teasing out differences in caregiving funding between FY22 enacted levels, the Biden-Harris proposed budget, and House appropriations. She also attended Congressional hearings and represented GSA in meetings with national coalition partners, other aging organizations, and stakeholders.
The benefits of Hana's internship will continue into the fall as well. Along with her fellow interns and Trish D'Antonio (Vice President of Policy and Professional Affairs at GSA), Hana submitted a late-breaking paper to GSA's Annual Scientific Meeting and they plan to pursue publication of their work on the intersections of research and policy.
Of her experiences, Hana reports, "All in all, it was a fantastic experience that provided me with a greater understanding of policy, advocacy, and how research can inform legislative action." Hana is currently working with Dr. Duane Rudy, but she was accepted for this internship in her previous work with former HDFS faculty member, Dr. Chris Proulx.