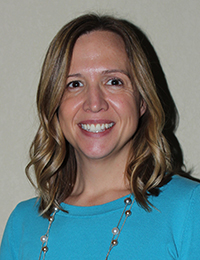 Melissa Herzog's peers rewarded her online teaching methods with a 2021 Faculty Excellence Award from Great Plains Interactive Distance Education Alliance. Herzog teaches in the youth development graduate degree program offered together online by seven universities.
She is part of the online program as an assistant teaching professor and graduate advisor for youth development at the University of Missouri.  Herzog has been with the Great Plains IDEA youth development program since 2008.  Along with teaching and advising, she leads the program by preparing annual reports and overseeing course and program assessment.
Herzog has been a consistent force for positive change, improvement, and maintenance of the youth development program.  "One of the many unique things about Melissa is not that she has great ideas (she does), but that she implements them skillfully and consistently across years…one of Melissa's strengths is her methodical way of going about doing things; it's one of the things that makes her effective and also leaves a lasting mark on the Youth Development program," said Meghan Gillette, associate teaching professor in the department of human development and family studies at Iowa State University.
"Dr. Herzog is constantly looking for training to improve her award-winning teaching…particularly those skill sets set on distance education," said Brenda Lohman, interim dean, college of human environmental sciences, and professor in human development and family science at MU.  "Dr. Herzog is fundamental in the success and retention of MU's youth students," said Lohman.
Herzog received the faculty excellence award at the Great Plains IDEA annual meeting March 2, 2021.  It comes with a $2,000 cash award.
Through Great Plains IDEA, 17 accredited member institutions and two accredited affiliate institutions, in various combinations, offer online courses in 18 academic programs. Students can choose from 11 online degrees and 15 online certificates. MU participates in five human sciences programs and four agricultural programs through the consortium. To take part in the inter-institutional programs, a student chooses one partner as a home institution for enrollment, transcript, and graduation.