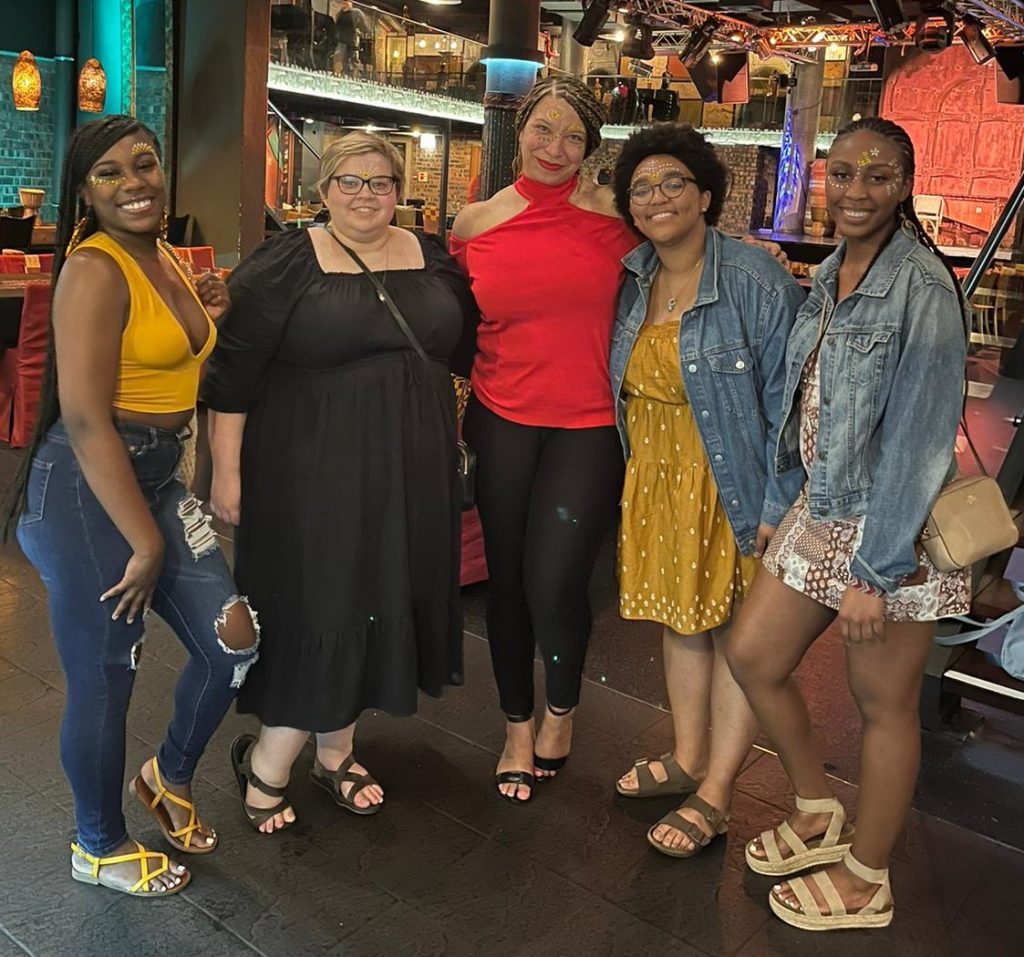 Associate Professor Antoinette Landor and four students from her research lab— three HDFS doctoral students (Jasmine Godwin, Jessica Marmolejos, Joelle Smith) and one undergraduate McNair Scholar (Aminah Bradley-Pikes)— traveled to Cape Town, South Africa in March and April 2022 to conduct research interviewing Black African and Colored young adults about their perceptions of and experiences with colorism.
Colorism, defined as the unequal treatment and discrimination of individuals based on the lightness or darkness of their skin tone (Landor & McNeil Smith, 2019), has played an historically influential role in the lives of individuals across the world. The majority of colorism research has primarily focused on U.S. populations; explorations outside of the U.S., particularly in sub-Saharan Africa, is limited. Dr. Landor is leveraging her previous research on skin tone and colorism with Black Americans in the U.S. to connect to experiences of colorism in South Africa.
Preliminary results illustrate the present-day insidious and pervasive nature of colorism in South Africa that privileges lighter skin individuals over those with darker skin. Findings are consistent with colorism research Dr. Landor has conducted with Black American young adults. This international project reveals that despite "social distance" between Black Africans and African Americans, colorism experiences are analogous and just as widespread. Dr. Landor also gave a lecture on colorism to students and faculty at the University of Western Cape, prompting interesting discussions afterwards.
Reflecting on her time in South Africa, Dr. Landor stated, "Visiting Africa was an incredible experience both professionally and personally. As an African American, arriving in Africa was like "coming home." This is the continent where my ancestors lived so as soon as I stepped off the airplane in Cape Town, I felt an overwhelming sense of commonality and connection."
Student Jasmine Godwin described similar feelings: "As an African American woman, having the privilege to travel to the motherland and conduct relevant as well as impactful research was transformative. I gained valuable first-hand experience…and learned how important having the skill of adaptability is when conducting research internationally."
This project was funded, in part, by the University of Missouri-University of Western Cape Exchange Program.