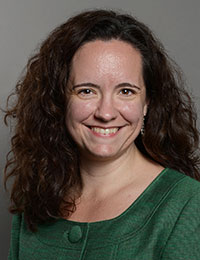 Hello HES Colleagues:
I am pleased to announce that Chris Proulx has accepted the position of Interim Department Chair in Human Development and Family Science for the 2020-2021 academic year. Chris joined HDFS in 2007 and is currently an Associate Professor and Fellow of the Gerontological Society of America. She brings considerable leadership experience to the role, having served as the interim Department Chair of HDFS in the 2018-2019 academic year; the chair of the HES Faculty Council on College Policy from 2014-2017; and as chair of the Research & Theory membership section of the National Council on Family Relations from 2016-2017. Chris's research examines social connectedness and health in mid and later life, with a particular emphasis on marriage and caregiving.
I look forward to continuing to work with Chris and my colleagues in HDFS under her leadership. Please help me in congratulating Chris Proulx!
Sincerely,

Brenda Lohman, PhD
Interim Dean HES
Professor, Human Development and Family Science