As always, the Human Development and Family Science (HDFS) graduate students at the University of Missouri are doing great things! This time, two graduate students received accolades for their research on families at the National Council on Family Relations (NCFR).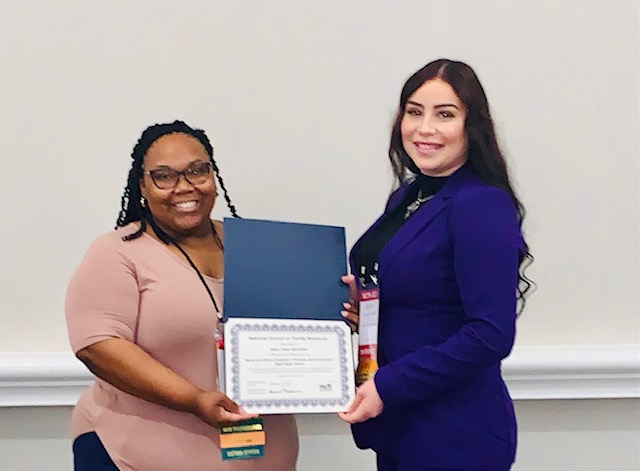 Jailyn Jasso-González was the 2023 recipient of the Student Best Paper Award from the Racial and Ethnic Diversity in Families (REDF) Section of NCFR. Jailyn's proposal was titled "Examining Racial Discrimination, Skin Tone, and Racial/Ethnic Socialization on African American and Hispanic Latino/a Likelihood of Forming Interracial Relationships." Jailyn is advised by Dr. Antoinette M. Landor.
Matthew A. Ogan received the 2023 NCFR Student Award. According to NCFR, this award is given to a graduate student "who has demonstrated excellence as a student and shows great potential for contributing to Family Science." Matthew's research focuses on stressful contexts (e.g., economic inequality and financial strain) and adaptive processes (e.g., dyadic coping) in intimate relationships. He presented two papers at NCFR, "Stress and romantic partner support: A critical review" and "Uncovering measurement bias: Differential item functioning in the Couples Satisfaction Index." Matthew is advised by Dr. J. Kale Monk.