The National Council on Family Relations (NCFR) has conferred its prestigious fellow status on Brenda Lohman, Ph.D., professor and chair of the Department of Human Development and Family Science at the University of Missouri (MU). She is also the director of MU's Center for Family Policy and Research.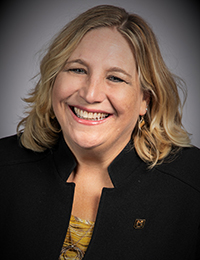 Dr. Lohman has made outstanding contributions to the field of Family Science through research, teaching, and leadership. Her scholarship on adolescent health and family policy, particularly for underrepresented youth and families with limited family incomes, has shaped our understanding of at-risk youth and their families. She has a strong track record of translating research to practice and a dedication to the policy implications of her work. As a leader in administrative roles and among family health and policy professionals, she has benefited Family Science scholars nationwide. At NCFR, she has made significant and sustained contributions, most notably in her leadership of, and engagement with, the Family Policy Section.
Dr. Lohman earned her master's in developmental psychology at Illinois State University and her doctorate in human development and Family Science from The Ohio State University. She joined the MU faculty in 2019. Previously, she served as professor of human development and family studies and associate dean for research and graduate education at Iowa State University.
NCFR Fellows are nominated by their peers and are selected by the NCFR Fellows Committee. Dr. Lohman will be recognized as a new fellow at the 2022 NCFR Annual Conference, Nov. 16-19 in Minneapolis, Minnesota.
The National Council on Family Relations is the premier professional association for the multidisciplinary understanding of families. NCFR has a membership of nearly 3,000 family researchers, practitioners and educators. For more information on the National Council on Family Relations or its scholarly publications, contact NCFR at 1-888-781-9331 or visit its website at www.ncfr.org.